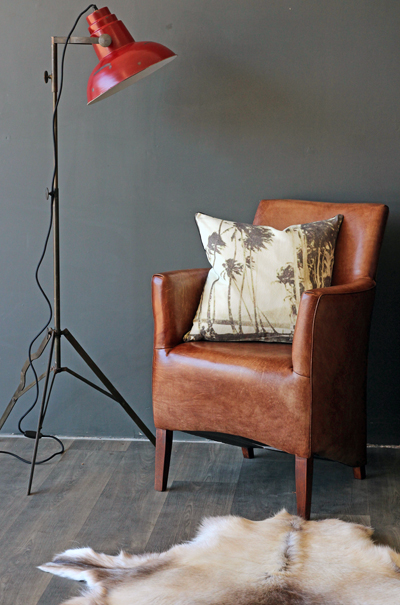 26 Sep
Leather know-how
Leather is a stylish and enduring option for furniture, but in the upper price bracket of most options. Therefore, your selection should be well informed so you not only know what you're paying for, but that it's money well spent.
The most common leather used in furnishings is cow hide, however buffalo hides are also becoming increasingly popular. At Beadles we use only full grain, top grain or corrected grain leather for our custom furniture so you can be assured of quality. What's the difference? Read on to find out.
Full grain leather leaves the leather grain intact (without sanding or buffing) so that it's at its most durable and breathable. This leather won't wear out but will develop at patina over time and is also perfect for warmer climates as it breathes, resulting in less moisture from prolonged contact. Full grain leather also shows every detail of the hide ie, insect bites, scratches that have healed on the animal, neck creases etc. This is the best quality leather available.
Top grain leather has been made thinner by taking away the top portion to make it more pliable. The leather is sanded back and finished with polishes, glazes, oils or waxes (just to name a few) which makes the leather more stain resistant but does change its feel and its ability to breathe. The finish needs to be maintained regularly to protect the leather.
Corrected grain leather just means leather that has had an artificial grain applied to its surface. Imperfections are corrected by sanding the leather back and a new grain pressed into the surface before the leather is re-coloured. The hides used to make corrected grain leather may not have met the standards required for full grain leather.
Split leather is the term used for leather made using the lower layers of the raw leather. Once the top layer has been taken off and used for Top Grain leather (see above) the lower layers can be resurfaced and embossed with a grain  to make Split Grain Leather or it can simply be used in it's natural unfinished form for suede.
Bonded leather is a term for partially synthetic leather. Varying types of plastic are spread over ground-up leather (sometimes as little as 17% leather compared to the overall product) and processed to give a leather look at a lower price to real leather.
The term Aniline refers to the dye process using soluble dyes that allow the grain structure of the leather to still be seen. This way the leather is able to retain its natural surface including any visible scars and pores, giving a more natural look. Any variations originally in the un-dyed leather will still be seen on the surface of the leather even after this process of dying. While showing the natural texture, they do not protect the leather from damage.
Semi-Aniline is very similar in process to Aniline, however a thin protective top coat is added. Pull up Aniline leather is another variation with an additional oil or was applied for a distressed look.
Make sure you are informed when buying your leather furniture from any supplier and ask about its production process. Different products have different life spans and various pros and cons so it's important to be informed about what is best for your situation and make sure you pick the leather variety that suits your needs.
As always, be sure to ask Beadles if you need any advice on leather options for your home.
Cheers,
Beadles